WEEK 2
SUBJECT: BASIC SCIENCE AND TECHNOLOGY
TERM: 1ST TERM
CLASS: PRIMARY 6
TOPIC: SYNTHETIC AND NATURALLY-OCCURRING DRUGS
BEHAVIOURAL OBJECTIVES: AT THE END OF THE LESSON, PUPILS SHOULD BE ABLE TO:
1 .State the meaning of drugs.
List the types of drugs
Mention the classification of drugs.
INSTRUCTIONAL MATERIALS: 
A chart showing different kinds of drugs.
REFERENCE MATERIALS
Scheme of work
All relevant materials     
9-Years Basic Education Curriculum
Online information
BUILDING BACKGROUND/CONNECTION TO PRIOR KNOWLEDGE:
Pupils are familiar with the topic in their previous classes.
CONTENT OF THE LESSON
Meaning of Drugs
Good health is very important because without it/ we shall not be able to do anything. A sick person cannot go to school/ work or farm.
Since human beings are generally exposed to things that may make them sick/ such as environmental pollution/ malnutrition and germs/ it is therefore necessary to take drugs or substances that will fight against the causes of the sickness in the body.
A drug is a substance that affects the action of the body.' Drugs can be used as medicine (i.e. to treat or prevent diseases) or as a stimulant (i.e. to make the body more active). Some of our food crops which are used for food are also drugs to our body. It is therefore nece ssary to take them moderately. If these food drugs are taken in large amounts they may become harmful to our body.
Types of Drugs
There are mainly two types of drugs. They are:
Naturally occurring Drugs
They are called natural products.
These are substances from nature, e.g. vegetables, kola nut, coffee, tea, tobacco, fruits (such as lemon, lime), garlic, salt, pure honey.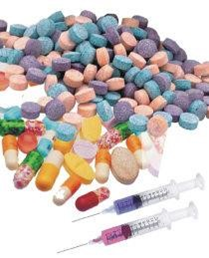 These are chemical substances produced by human beings to treat or prevent diseases. A person who is trained to prepare and dispense drugs and medicine is celled a Pharmacist. Examples of synthetic drugs are; paracetamol, chloroquine/ aspirin. Drugs that are in solid form are called tablets.
Drugs in liquid form are called syrup.
The two main types of drugs can still be classified into:
Normal drugs are the common drugs that doctors and nutritionists prescribed to treat or prevent illness. Examples are paracetamol, aspirin and chloroquine. 
Hard drugs are drugs that are not really for medical purposes. They have stimulant effects on the body i.e. they-affect mood or behavior. Examples include cocaine/ heroine/marijuana and cannabis Assessment & Evaluation:
1 .State the meaning of drugs.
List the types of drugs
Mention the classification of drugs.
(WRAP-UP CONCLUSION)
Teacher goes over the topic once again to enhance better understanding. Answer these questions 1. What is a drug?
Explain the difference between naturally-occurring drugs and synthetic drugs.
Give four examples of naturally-occurring drugs in Nigeria.
I can buy any drugs I like directly from a chemist's shop – true or false?
Is food a drug? Give reasons for your answer.